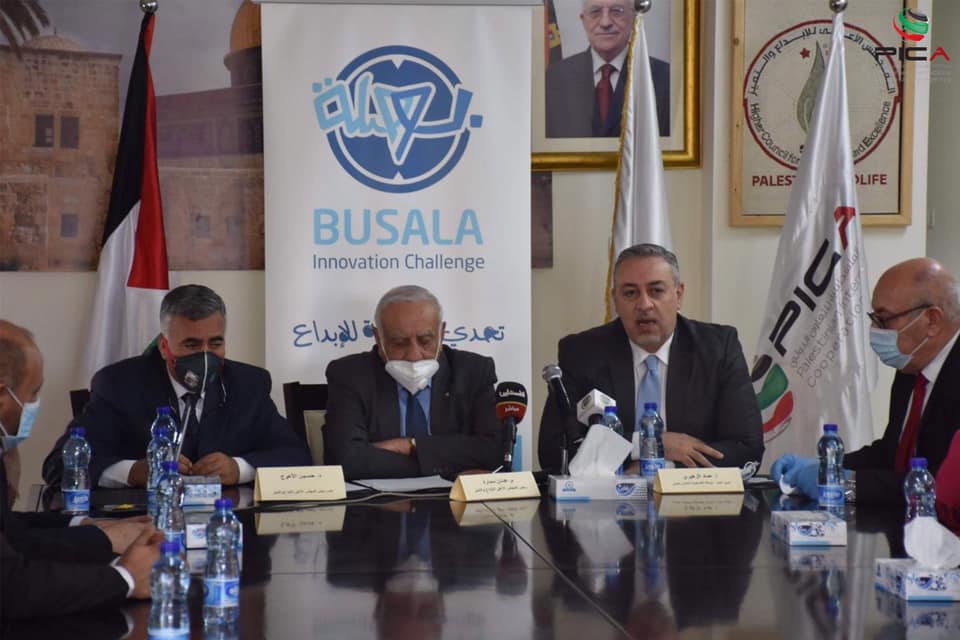 BUSALA Innovation Challenge "We Innovate, We Contribute, We Impact!"
The Palestinian International Cooperation Agency (PICA) and the Higher Council for Innovation & Excellence (HCIE) have officially launched BUSALA Innovation Challenge; an initiative that aims to provide a platform for Palestinian innovators and entrepreneurial teams to apply, test and scale their innovative solutions and help address global development challenges. Importantly, in partnership between the two organizations and through cooperation with representatives of the Palestinian entrepreneurial ecosystem, the initiative seeks primarily to organize annual competitions and Hackathons that enable the participants to offer innovative solutions that target one or more of the SDGs.
The initiative also aims to achieve the following objectives:
Promoting Palestinian innovations as reliable, effective and impactful solutions to global development challenges, such as climate change, eradication of poverty, financial inclusion and access to reliable and clean water sources.
Providing an inclusive platform for Palestinian innovators and entrepreneurs to apply their innovations to real-world development challenges.
Building a pipeline of scalable and investable projects among the selected innovations that achieved a proof of concept and demonstrated their potential to solve challenges and scale beyond this region.
Enhancing the entrepreneurial ecosystem in Palestine by harnessing the expertise and networks of the diverse set of stakeholders involved in the program, and providing access to novel opportunities for scalability, growth and impact.
The activities and roles of each partner (PICA and HCIE) have been divided based on the available resources and "comparative advantage" of each organization. Precisely, as the national umbrella for innovation and entrepreneurship, HCIE will provide access to different ecosystem stakeholders – from incubators, accelerators, venture capital funds, high-tech companies and research centers at national universities. On the other hand, PICA will focus on building partnerships, attracting sponsors, and promoting innovations regionally and globally.
In order to ensure efficiency in the selection process, the participants will be divided into 3 groups based on their stage of development:  1. Idea Stage.  2. Prototype/Minimum Viable Product (MVP) 3. Startup.
In addition to networks, guidance and opportunities to expand into new geographical locations, BUSALA Innovation Challenge aims to give incentives to participants by providing them with different sources of funding in terms of both financial prizes (i.e. grants) and opportunities to gain equity investment from venture capitalists and investment funds.
PICA and HCIE are looking forward to joining forces with Palestinian entrepreneurs and innovators to address global development challenges and create a better world through innovation and creativity.
It should be mentioned that deadline for receiving online applications is August 1st, 2020!
Application forms must be filled and submitted to the following emails:
SDG2019@hcie.ps or SDG2030@hcie.ps
Application form:
Click here to download the application form
For further details about the application process, important dates and other information, please follow BUSALA INNOVATION CHALLENGE via social media.